Nación Motorizada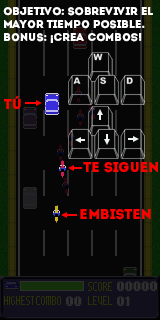 Nación Motorizada (Motorized Nation) is a videogame published as an intellectual vengeance. In this game you control a car driving in a motorway, and the objective is to survive the constant harassment of the motorbikes that are chasing you. You can play the game online (requires Flash).
This game came to be as a revenge to an attempt of mugging to me while driving. As of 2013, my city has a serious crime problem, and in November 2012 I was a victim of it. Having made a small prototype months earlier, when I reached home I could not take away the mugging attempt out of my mind
This game has attracted some attention: it had a review in a national newspaper, and it got me an interview at the Chinese Central Television news:
Video in Youtube.
Click here to play it. You can also browse the source code on Github if you're curious.
I did an (incomplete) port of this game for the BlackBerry PlayBook, using an early version of Marmalade Quick. You can watch the game in action in the following video:
Video in Youtube.